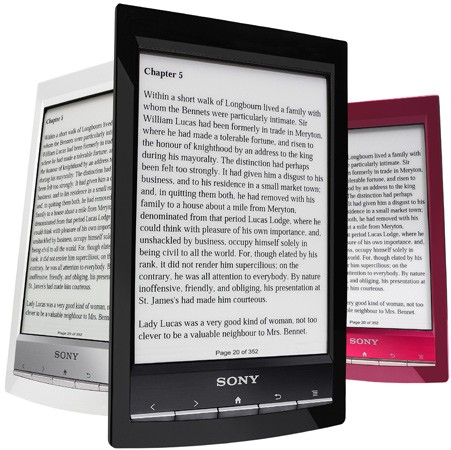 Recently, Sony has been touting its Reader Store for the Android-powered Tablet S and Tablet P. While it may seem like the company has forgotten about its other, eye-friendly options, rest assured it has not.
Sony just recently announced at IFA the pretty self-explanatory Reader WiFi (PRS-T1) which claims to be the world's lightest 6″ E-Reader with an "enhanced" touchscreen. If you are wondering what Sony means by "enhanced", it simply refers to the device's "Clear Touch Infrared" technology which supports multitouch for pinch-to-zoom. In addition to that, it is also bundled with a stylus.
The device only weighs 5.93 ounces and is 8.9mm thin and packs a 600 x 800, 16-level gray scale E Ink Pearl display. In addition to that, it also comes with 1.3GB of usable internal storage as well as a microSD expansion of up to 32GB.
Built-in 802.11 b/g/n WiFi capabilities also allow users to wirelessly borrow eBooks from public libraries, which apparently is a first for E-Readers in the United Kingdom, Canada and United States. As far as battery life goes, a single charge will keep you reading for up to three weeks with WiFi enabled or up to a month without WiFi. These numbers are, of course, based on a half-hour a day reading schedule.
You can expect this E-Reader, which is compatible with ePub, to hit the United States and European  markets in October for around $149. It will also come in a color choice of either red, white or black. Another juicy piece of information that has just surfaced is that the device will run on an Android system which is hinted at by the buttons.
Source: Engadget – Sony's new Reader Wi-Fi is the world's lightest 6-inch e-reader with multitouch screen (update: powered by Android)